NBN's Media Tours — Now part of a complete breakfast!
Well, it's way past breakfast time, but even while I eat lunch for some reason I can't get my mind off of cereal. Must be the recent projects we've done for a handful of clients that don't ever skimp on the most important meal of the day…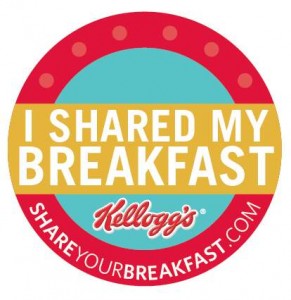 First, starting in the breakfast hour, we did a complex multifaceted video release and Satellite Media Tour — with video shoots in Chicago and Washington, DC before we did the final shoot and edit along with an SMT in Orlando for Kellogg's new "Share Your Breakfast" campaign.  We produced the B-roll and – after doing an SMT a few weeks ago with Alison Sweeney in Los Angeles.
"NBN had two crews and a truck in Orlando for a combination SMT and B-roll shoot-edit-feed with Monica Potter of NBC's Parenthood for Kellogg's® Share Your Breakfast program. For our new client, Krispr Communications, we handled the SMT which ran before and after a media event featuring local school kids hearing a message about the importance of breakfast. The SMT ran from 7 a.m. until 9:35, and then from 10:40 to 1 pm. Monica, who is a mother, and plays a mother on Parenthood, used her break time to talk with kids during an outdoor breakfast, and our second crew caught the friendly, easy time she had with them. While Monica was doing her second SMT stint, we began the edit for the 3:30 pm uplink and satellite feed of the B-roll."  The SMT totaled 29 booked interviews. You can see highlights of the tour on NI – http://newsinfusion.com/events/shareyourbreakfast
From glamorous Hollywood actresses we move, well, to another glamorous Hollywood actress – and back to breakfast cereals, this time for General Mills.  For our friends at Cone, we interviewed actress – and mom – Jennie Garth as she joined General Mills for the 10th anniversary of the Cheerios Spoonful's of Stories program. In the last 10 years, Spoonful's of Stories has put more than 6 million bilingual children's books free inside of specially marked cereal boxes. To encourage kids to read and highlight the importance of providing kids with access to books, Cheerios is launching "Breakfast and a Book" readings in cities across the country. Jennie Garth said, "As a mother of three daughters, I know how important it is to take time to read to our children on a daily basis."  We released an AudioMax RNR that included national AudioLine satellite distribution to Dial Global and AP Radio affiliates, national top market EDFs and NewsInfusion audio podcast page, plus secured broadcasts once on USA and BTRN, and twice on Radio America and Lifestyle networks.  All combined, the job resulted in audience impressions that for the value could not be beat. In addition, Cheerios is making a $300,000 donation to First Book, a literacy focused non-profit.  For more information, visit www.spoonfulsofstories.com and you can hear the RNR on NI at this link:
http://newsinfusion.com/events/spoonfulsofstories